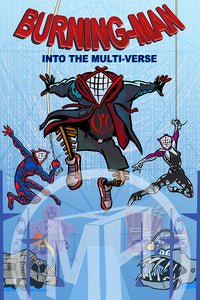 11x17" print from the 2020 Burning Man theme; "Multiverse" 
This piece is a parody of the popular Marvel Comics animated feature "Spider-Man, Into the Spider-Verse," with several art cars lining up against the 6 o'clock road to the Man, with the spires lining the path. 
Each year I recreate a classic comic book cover with the theme of Burning Man.
All proceeds of this print go directly to the Burning Man Org.